Well, I was gonna upload this but did a quick search and someone else already has it on their blog so I'll just link you to there. Richard & Linda Thompson recorded a bunch of albums together back in the olden days, my two faves are "I Want To See The Bright Lights Tonight" and "Shoot Out The Lights", for some reason I can't really get into their other albums...

This bootleg is from the "Shoot Out..." sessions recorded by Gerry Rafferty and later discarded by the duo. It's a must have for any Thompson fans but if you aren't familiar with their work then first slap yourself in the face then get the two albums I mentioned above before downloading this.

I'm gonna be shooting photos for Pitchfork at The Green Man Festival this year, Richard is playing and I can't wait to see him, more than anyone else on the bill. Richard Thompson also did the music for the Werner Herzog Documentary called "Grizzly Man", there is an awesome doc on the DVD of the recording sessions where you get to see Thompson at work, it kicks ass.

As I said, these aren't my links, I found them here: http://time-has-told-me.blogspot.com/2007/10/by-manila-18.html so make sure to go there because he/she has a second download of more tracks :-)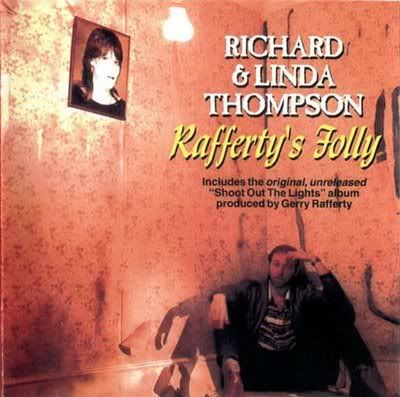 1. Don't Renege on Our Love
2. Back Street Slide
3. Walking on a Wire
4. The Wrong Heartbeat
5. Shoot Out the Lights
6. For Shame of Doing Wrong
7. I'm a Dreamer
8. Modern Woman
9. Just the Motion
10. Wall of Death
11. Lucky in Life
12. How Many Times Do You Have to Fall?
13. Poor Will and the Jolly Hangman
14. Wall of Death
15. Sword Dance/Young Black Cow
16. I Want to See the Bright Lights Tonight
http://sharebee.com/43734514
http://www.badongo.com/file/4697557
http://www.zshare.net/download/4190510fd34a39/
http://www.megaupload.com/?d=QUFW01XB
http://rapidshare.com/files/62241873/1._RLTRF.rar.html
Click on the Amazon links below to go right to Richard & Linda Thompson albums and buy, buy, buy!
Amazon USA
Amazon UK