When I was in school I was a bit of a 'wigga', I was all over the latest Biggie Smalls album like a big fat rash, maaaaan that was a good summer listening to The Pharcyde and reading The Hobbit at the same time. When I was 17 I started listening to more respectable music and by 18 it's safe to say that my days were spent listening to Joy Division and Nick Cave and my nights were spent listening to Joy Division and Nick Cave. I got to see Nick live in Liverpool on one of his solo tours, it was pretty flipping cool, if only I'd heard The Birthday Party before then I would have appreciated piano versions of Wild World and Dead Joe a lot more. In 2001 And No More Shall We Part came out, I thought it was pretty sucky, but seeing as I now loved The Birthday Party and every other album by 'ol Nick I went to see him three times in a single week, pretty obsessive behavior, I booked my tickets, one for Manchester and two for Brixton Academy.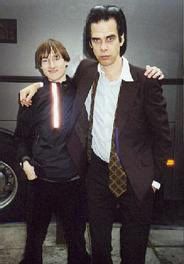 The first London gig was good, the second was even better but neither was as awesome as Manchester a few days before. Although I was now twenty Joy Division was still high on my list of fave bands so when in Manchester I went to visit Ian Curtis' grave, it was pretty special. I got to The Academy and there was no queue so decided to hang out round the back by the tour buses, I got a glimpse of Blixa getting into a taxi and nearly had a heart attack, then spotted Warren Ellis, he looked like a tramp. Ages later Thomas Wydler came out of the bus, he looked in the reflective glass and combed his hair, he was meticulous, he then turned to walk, took a massive sniff and gobbed all over the pavement, it was soooo cool! Me and a few other obsessives went over and asked him if Nick was in the bus, in his strong German accent he said "vait and you vill see". A bit later the door opened and he came out, Jesus Christ walked out of the navy coloured tour bus and I jumped to my feet and practically ran at him (smoooooth!). It was a weird experience, he signed a piece of paper for me then even posed for a picture, I put my arm on his shoulder pad and felt a little bit gay for a moment. I couldn't believe how small he seemed, I was convinced he was the same height and build as me, not the imposing beast I'd read about for years. When I got the photos back it was obvious that I'd clearly lost my mind as his head is as big a small car and I look like a six year old next to him. I look disgusting, all smiley and vile, and no that is not a bloody tie, its a reflector on my coat!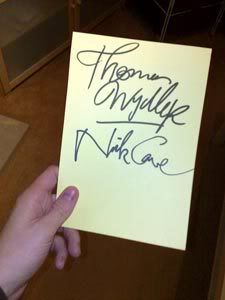 The day couldn't really get much better but if you've ever seen Nick live you'd know that it did get better, the gig that night is probably the best gig I've ever been to. He was on top venomous form, he flew about the stage like a bat, towered over the crowd like a spindly, dead tree and he even pointed at me (at least I'm going to believe it was me). The set was a healthy mix of old stuff and tracks off the new album, I actually left that night loving the new songs, I can't believe I ever doubted And No More Shall We Part cause its great; I will never feel the same way about anything after Nocturama though cause that stuff is just wack. I recorded the show that night, it's no soundboard quality but it really captures energy and essence of the night, The Mercy Seat was just out of this world, building up to a crescendo (is that the word?) that had me thinking my ears would explode in two fountains of hot blood. The other standouts for me were Oh My Lord, Red Right Hand, John Finn's Wife and The Curse of Millhaven.

Check out the setlist then have a listen to a sample track or just go ahead and download the whole bootleg in a zip file. (Please note that I took this off the minidisc years ago and have cut out the chat and clapping between songs cause I wasn't interested in that shit back then)

Manchester Academy, Manchester, 02/05/2001
As I Sat Sadly By Her Side
Oh My Lord (MP3)
The Boatman Calls
Red Right Hand
We Came Along This Road
Henry Lee
Do You Love Me?
God Is In The House
Hallelujah
Fifteen Feet Of Pure White Snow
John Finn's Wife
The Weeping Song
The Mercy Seat
And No More Shall We Part
The Ship Song
The Curse Of Millhaven

Download all songs: Zip (no need to sign up for free membership!)

p.s Back in 2001 I set up a trade for this recording with someone on a Nick Cave forum, you sent me my tapes but I never sent yours, this was due to depression taking my life, job and internet connection for the first time, I still have your tapes if you want them :-p

(Update: adding DIG, LAZARUS, DIG!!! download in words only to come up in searches, pretty sneaky! If you are actually looking to download the 2008 album you'll have to look elsewhere).


Buy Nick Cave albums on Amazon, the Boxing Duck! gets a percentage of whatever you spend so get your hands in your pockets!