Ooooooooooooh! A Bruce Springsteen & The E Street Band Live at the Millennium Stadium, Cardiff - 14.05.08 recording for you, aren't you the lucky one???

You have no idea how excited I was about this gig, for, like, months, 'n', shit, the day before I was bubbling like that pink slime in one of the Ghostbusters films, it was insane, I've not been so excited since that one time when. The day of the gig I was gonna catch the 13:30 train up there and queue to make sure I got near the front but instead I bought a bottle of vodka, two cartons of orange juice and a plastic picnic cup and met up with 'the boys' to make the pilgrimage to smelly Cardiff.

We got up there and the city was heaving with Boss fans, at least I think they were, it was hard to tell with the amount of light being reflected off all the old dudes heads... We headed to Wetherspoons where I polished off what was left of my vodka then battling the immense pain in my chest rushed to the toilet and sicked it all back up again. We got wind of a special "Born in the USA" cocktail at a place across town, word on the street was that it was layered red, white and blue and a must have on this special day. As you can see from the photo below it wasn't red, white and blue at all, it was pissy yellow but fortunately it tasted a little bit like heaven so not all was lost.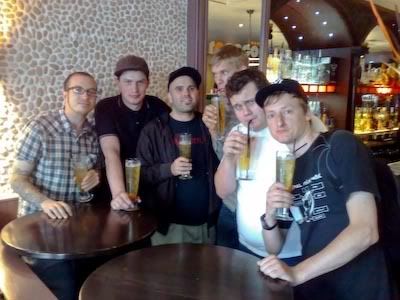 Following that I had a "Sex and the City" (I think) before we left and I bought up another bottle of vodka, do you see what's happening here? I was so excited I was inadvertently getting absolutely hammertimed!
After hiding my recorder and vodka in my pants (I assume I did this cause they weren't in my bag when the security checked) we got to the stadium about 7ish. I bought 2 bottles of pop and left the gang to buy myself one of the awesome "Tramps like us baby we were born to run" t-shirts, split from the pack, hammered and with no idea what was going on I was now alone, this was the beginning of the end.
I don't remember Bruce and co taking to the stage or leaving the stage or much in between, I have a faint recollection of part of Thunder Road but that's it. MAN, I AM SO PISSED OFF! At some point I realised I'd lost my hat and I think that was the last straw, the other straws being the tens of thousands of pathetic middle aged losers standing around stroking their bloody chins. If The Boss has preached any message of the years it's not to sit back and rot but to get off your arse and make something of your life, being surrounded by so many so called "fans" that have neglected to heed the word of their 55 quid a ticket hero pushed me over the edge. I remember going for a piss and just looking out over all the people and just losing the will to live so I sat in one of the seats on the side and just started crying.
It's a horrible thing to be surrounded by something like 60 THOUSAND people and feeling so alone that there is nothing worth living for, I think I started texting desperately at this point (sorry to whoever got one or many!) and then just put my head in my hands and wept, I don't know how long this lasted but I'm pretty sure it was a long, long time. This depression is doing it's best to kick my ass but I have a secret weapon, and I'll be going to the doctor on Monday for a prescription. I once managed 3 months without meds and this time I've managed the massive, wait for it, ONE MONTH before losing it completely. Bruce's music has never been about rocking out to me anyway, its about sadness and misery and whether I remember any of it or not that night I was extremely sad and really fucking miserable.
That's enough about me, just check out this setlist! I'm so pissed (pardon the pun) that I don't remember it cause it's just incredible! I have put an asterisk next to all the ones I'd have killed to hear. The download links are at the end, note that it is split into 2 separate downloads due to its size so download both parts from different links to save yourself time.
01. Intro
02. From Small Things (Big Things One Day Come)
03. 10th Avenue Freeze-Out
04. Radio Nowhere
05. No Surrender *
06. Lonesome Day
07. Promised Land *
08. Danny Story
09. Blinded By The light *
10. Magic
11. Atlantic City *
12. The River *
13. Gypsy Biker
14. Darlington County *
15. Because The Night *
16. She's The One
17. Livin In The Future
18. Mary's Place
19. Working On The Highway *
20. Devils Arcade
21. The Rising *
22. Last To Die
23. Long Walk Home
24. Badlands *
25. Outro
26. Intro
27. Jungleland *
28. Tribute To Tim Russert
29. Thunder Road *
30. Born To Run *
31. Rosalita *
32. American land
33. Applause & Thank You
Part 1
http://sharebee.com/01d4578b