The Duck is back! I've not posted for quacking ages for many reasons but mostly because I got obsessed with fixies and spent a month solid watching the MASH trailer and researching bar tape and shit. I built my bike up over Christmas and throughout January I've been all depressed and at a loose end so didn't bother posting here.

This blog has been going for just over a year now, 30,000 unique users (according to my stat counter) visited in 2008 which is pretty bloody amazing, just goes to prove that I'm the best :-p To celebrate this I'm staging a bit of a competition...

A photo I shot of Daniel Johnston backstage in Manchester back in 2007 has been used on the sleeve of a vinyl issue of his Lost and Found album put out by COPPERTREE RECORDS which in their own words is "...a lavish double album with a double-weight embossed sleeve, full colour inner lyric sleeves and virgin vinyl for the 180g pressings." In my words "it's fucking lovely!" check it out in all it's photobooth glory...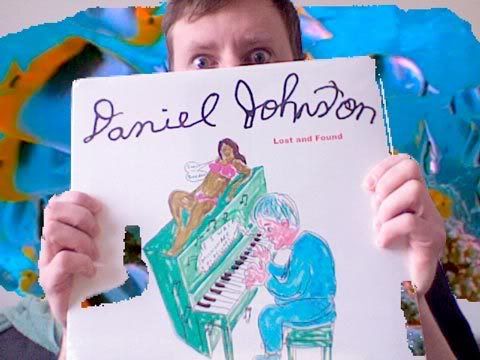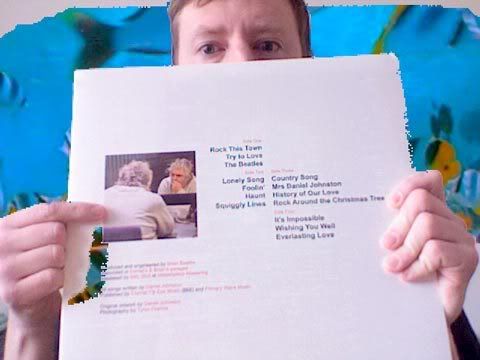 To be in with the chance of winning a copy of the record all you've got to do is download this
A4 BOXING DUCK
and get arty farty with it. I don't care whether you colour it in with pens, crayons, pencils, Photoshop, MS Paint or glue and glitter just make sure you make it special. Feel free to draw on your own characters, stick on cuttings, add speech bubbles etc. When you have finished post it to:
Boxing Duck

C/O Exist Outlet,

214 Oxford Street

Swansea

SA1 3BG

Wales

UK

Or if you are going the digital route email it to boxingduck@me.com
I will scan and upload every entry and my favourite one will get the vinyl in the post, the deadline is in a 2 months from today so make sure I get your entry by the 7th april 2009!!!
- 
Now for the download, Daniel toured with a bunch of 'friends' last year under the catchy title of "An Evening with Daniel Johnston and friends" which I would have loved to have attended but I was fighting 'The Man' at the time and was proper 'skint' so it was a no go. Luckily the internet is full of presents and I found this great recording of their performance at the Old Fruitmarket in Glasgow. Daniel is "... supported and backed by Mark Linkous of Sparklehorse, Scout Niblett, James McNew of Yo La Tengo, Norman Blake of Teenage Fanclub and Jad Fair of Half Japanese." The setlist is flipping radical, check it:

Mean Girls Give Pleasure
There Is A Sense Of Humor
Mask
Mountain Top
Speeding Motorcycle
Casper
Hey Joe
Fish
Rain
Go
Story Of An Artist
Rock This Town
Walking The Cow
Love Enchanted
Rock N Roll
Crowd
True Love Will Find You In The End
Devil Town
Most Beautiful Widow

choose from any of these fine links:
http://sharebee.com/eb318230
http://www.megaupload.com/?d=24279P2F
http://www.badongo.com/file/13269883
http://rapidshare.com/files/194941721/DJ-GLASGOW-08.zip.html
http://www.zshare.net/download/55220114dd3fb184/
http://depositfiles.com/en/files/osu267miz