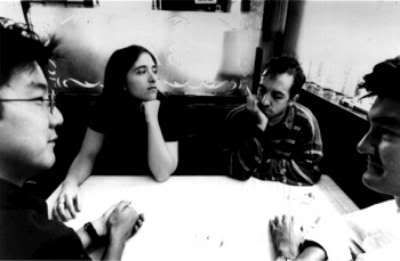 I've seen The Magnetic Fields live a bunch of times now, Shepherd's Bush just after the last 6ths album came out, both 69 Love Songs nights at The Lyric and on the I tour at The Royal Northern College of Music. The venues are getting progressively poncey and so are the attendees which, for a council estate boy like me, is quite unfortunate really. I don't mind rich people as long as they are bonkers rich but I can't stand the middle classes, what a bunch of wankers. That's neither here no there, just thought I'd make it known that the middle classes are rubbish.
There's no winning for me really, every time I go to a gig I realise just what a raving misanthropist I am, it's horrible for me. I honestly don't understand how people can like a band like The Magnetic Fields yet dress up like a complete retard and spend and hour doing their hair before leaving the house, and that's just the dudes! What's it all about, eh? A person's life must be pretty uncomplicated if they have that amount of disposable time, I'm too busy worrying about exactly when and how I am going to die to bother styling my fucking hair. That's what I love about The Magnetic Fields, they are so bloody plain, never has a band looked so boring yet packed such a punch. Stephin is an absolute genius of the written word, Claudia is just plain amazing and Sam and John look like a couple of maths students. You could walk past any one of these people in the street and they'd be invisible to you (unless Stephin was walking his gargoyle, of course). I don't understand where wearing the wacky clothes comes into being a music fan, going to gigs these days is almost like going to a clown convention.
This tour has had a "set a" and a "set b", I'm not exactly sure which one I got but I've seen the setlist for the other and I would have preferred that one, it's all right though because this one had some absolute classics in the form of "When I'm Out Of Town", "Lovers From The Moon" and "Give Me Back My Dreams" as well as all the other great songs they played. The sound is pretty darned good except for some chairs creaking and some sniffling, which although I don't remember shuffling in my seat or sniffing was probably me as I'm a fidget and have a bit of a breathing problem cause some cow punched me in the nose when I was a lad. Shirley Simms was there which was a delight, her mouth reminded me of the woman that works on the reception of the gastroenterologist in the episode of Curb Your Enthusiasm where Larry has an itch in his anus which was a bonus.
01. Introduction 1
02. When I'm Out Of Town
03. California Girls
04. All My Little Words
05. Come Back From San Francisco
06. Old Fools
07. Xavier Says
08. Walking My Gargoyle
09. No River
10. Too Drunk To Dream
11. Courtesans
12. Crows
13. Water Torture
14. Introduction 2
15. Lovers From The Moon
16. I Wish I Had An Evil Twin
17. Give Me Back My Dreams
18. Grand Canyon
19. Papa Was A Rodeo
20. Drive On, Driver
21. The Nun's Litany
22. The Tiny Goat
23. Smoke And Mirrors
24. Zombie Boy
25. Three-Way
http://sharebee.com/18bd4fff
http://rapidshare.com/files/129211330/the_magnetic_fields_cadogan_hall_london_09_07_08.zip.html
http://www.zshare.net/download/15191987992d3171/
http://www.badongo.com/file/10356249
http://www.megaupload.com/?d=ZRB3Q7O0